Oh Honey
Regular price
Rs. 3,999.00
Regular price
Rs. 4,999.00
Sale price
Rs. 3,999.00
Unit price
per
Sale
Sold out
'My nail kit' by Oh Honey is the gold standard of nail extensions. Our soak off gel tips are just as easy to remove, as they are to apply. Long lasting, light weight, damage free nail extensions are here! 
Items included-

Soft gel nail tips- 240 tips

My mini lamp

Primer- 15ml

Glue gel- 15ml

Top coat- 15ml

Beauty bag
Product benefits

1. Oh Honey Soak off gel tips

            🧡Light weight and durable! Our gel tips are light weight, trackless and durable. Our pre-etched tips are designed to help adhere! Giving you a manicure that lasts up to 3 weeks! They are pre-shaped and filed so you just press, cure and paint!

            🧡Efficient! Soak off gel tips are quick at-home alternative to time consuming traditional nail enhancement! Just press, cure and paint!

             🧡Damage free SOAK OFF! Removing artificial nails have never been easier and more damage free! Simply soak your Oh Honey tips in acetone and voila! 15 mins later, they can be scraped off!

             🧡Affordable! With Oh Honey, no more breaking your nails or your bank! Our kits come with 240 pre-shaped tips! So you switch up your style up to 24 times with just 1 kit! That's a minimum of 6 months of a perfect manicure!

             🧡UV curation! The UV lamp helps adheres the nail glue to gel tips within 30 seconds to give you maximized strength and secures every tip in place!


2. Mini UV Lamp! Our Mini UV lamp runs on 16 W and cures all types of gels with a lifetime of 50,000 hours!

3. Glue gel! Unlike traditional nail glues with a water-like consistency, our glue gel has a honey-like consistency. This enables the glue to securely fill the gap between nail bed and tip to not only strengthen the adhesion but also seal your nails and protect them from bacterial growth

4. Primer! Nail prep is 🔑 ! Our primer helps the glue gel adhere to the nail for a long lasting manicure!

5. No Wipe Top Coat! Finish off with Oh Honey Top Coat for a long lasting and chip free nail set! So all your manicures are professional and mess free!

6. Beauty BAG! Whether your at home or catching your next flight our beauty bag is here to keep everything in place! Also, it's kinda cute!
Return policy

Unfortunately, due to the current Covid-19 pandemic, we are not accepting any returns or exchanges once the product is shipped. In case your products was damaged or defected, please reach out to us by clicking this link.
Cancellation

Yes love, you can cancel or modify your order within 6 hours of placing it. Just click this link
Share
View full details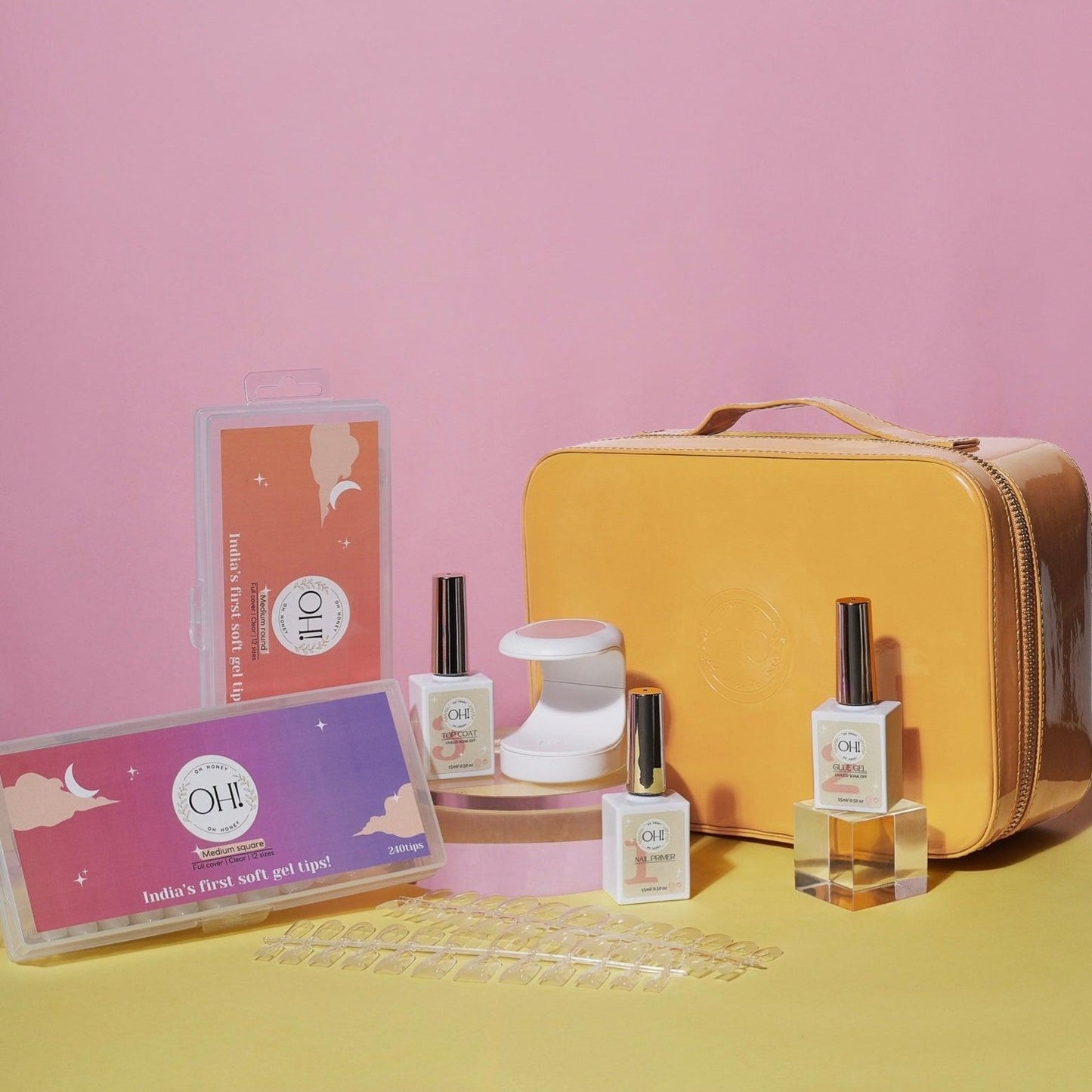 My best investment till now❤️
I am obsessed with this nail kit, It is extremely easy to use and comes with a step by step guide. The quality of the products are very good❤️ I got 20% discount using the spin wheel and got this kit for 3999. I used to get acrylic nails done before but they were very damaging and expensive too. Now I can do my own nails- Less damaging, budget friendly and doesn't take 2 hours. Once you are done applying the nails, the end result is exactly like nail extensions. The UV lamp is also very cute, effective and works very well. I swear you won't regret buying this nail set. I am extremely obsessed ❤️❤️
Love love love
I can't be more surprised, the quality is outstanding & it's so easy to use….I can't believe I could do it at home…🫶🫶🫶🫶
Oh Honey ❤️!
Oh honey❤! Thank you so much for introducing this product.. It is so easy and quick.. Am a beginner, so i take 3hours Or more fr nail extension bt your product has made is so simple.. In love with Oh honey product.. Have placed my second order already. Above pic is what I did fr my customer with oh honey nails.. ❤
Perfect for beginners
This set is so beginner friendly has all the essentials u just need a nail filer to file ur desired shape
It's so easy to use and the nails are strong and durable so definitely will but again
My best ever purchase from insta❤️
First of all i got 10%off on my nail kit(yayyyyyyy💃🏻) ,after that i ordered the product at 2.30 pm and i received it at 7 pm on the same day😃(i live in mumbai),and above all, the pakage i got was soo soo soo awesome ❤️my god trust me im already in love with the quality of the MY NAIL KIT ,Nails are soo easy to apply u just need 10min for one hand and u dont need to be a professional .thank you team oh honey for being super nice ,helpful and introducing me with such a nice quality product❤️YOU DEFINITELY GOT ME FOR A LONG TIME😍🥰😘
Oh Honey, we got you!
India's first soft gel tips are now here to up your nail game! They last longer unlike press on nails & are damage-free unlike acrylic nails!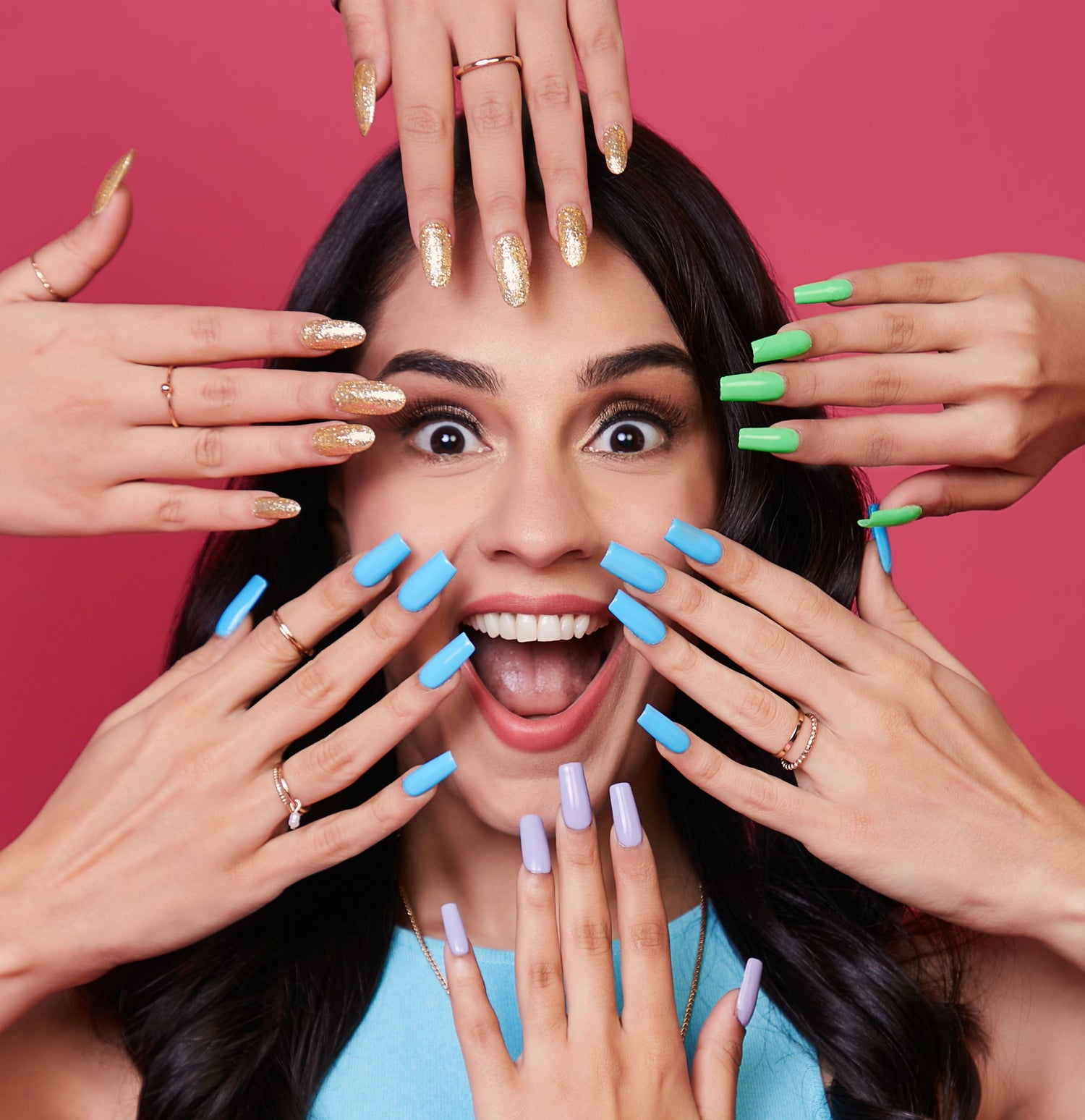 Follow us on Instagram!
Join the @tryohhoney family! Share your #OHMOMENT with us to get featured! Follow us on Instagram to enter exclusive giveaways, talk about trends and enjoy a good meme!
Follow now